As Five Degrees we are growing rapidly. This growth is also recognized by several media outlets, as we were featured by many of them over the past months. In case you missed any of them, we hereby give you a short recap.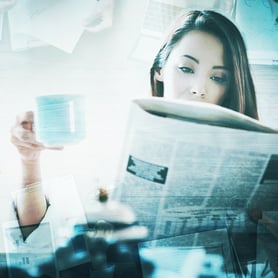 This year we were nominated for 'De Nieuwe Kampioenen 2017' award by the Dutch Financial Times (het Financiële Dagblad), an award for innovative Dutch companies. The Financiële Dagblad wrote a great company profile on us (in Dutch), you can check it here.
More and more media are starting to recognize our role in the Fintech landscape. Our CEO Martijn Hohmann is always happy to share insights on next generation digital banking platforms, as he did so on several occasions. The Business Debate from The Wall Street Journal spoke to Martijn and wrote an awesome piece on the future of marketplace banking. You can listen to an interview with Martijn (in Dutch) on Business News Radio.
Something close to our heart is Financial Inclusion - we are really proud of our participation with the Helping Heart initiative as the technology partner. We have teamed up with N=5, MediaMonks and TSIP to support the Helping Heart initiative. Together we're creating a jacket with an integrated patch that revolutionises the way you can donate money to homeless people. This was covered by a lot of media outlets, such as Mashable and Elle. You can also check the video or read more about this in our blog.
Would you like to learn more about us and follow our news?