It is common for users of traditional Core Banking systems, to want to overcome some of the restrictions. Most users continue to find that it is stable and, back when it was selected, it was probably the right choice. However, the demands of today's marketplace bring new pressures and it also incurs a relatively high total cost of ownership (TCO).
In line with current thinking, implementing a much more flexible Digital Banking Platform on top of a traditional Core System can bring rapid returns. The legacy can be hidden from customers, with a strong executable workflow and orchestration capabilities allowing banks to be much more readily tailor products and services for their customers, with a consistent and seamless experience across all channels (A real Omni Channel experience). It also allows banks to increasingly integrate with third-party systems, a vital attribute when moving towards 'marketplace' or 'open API' banking, whereby they white-label products and services.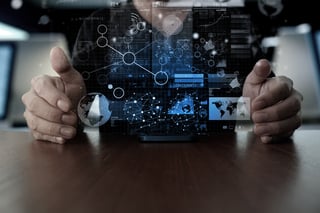 That Digital Banking Platform can become the main customer repository, driving sophisticated CRM based on detailed data, and leaving the back office as increasingly merely the transaction and accounting engine. In this way, the scope of the back office 'shrinks' on a phased and manageable basis. Tangible business benefits are gained in a short timeframe without the high-risk, high-cost multi-year 'rip and replace' projects of yesteryear. When finally it is deemed right for the core system to be switched out, its much-reduced footprint should ease this.
It is for this sort of scenario that Dutch leader in Private Banking 'Van Lanschot' selected Five Degrees Matrix Digital Banking Platform, on top of their legacy systems. With Matrix, the Private Bank adopted a clean three-layer architecture, as the orchestration, CRM, business process management (BPM) and document management mid-tier. Every Matrix Customer has achieved impressive growth, agility, resilience, operational cost reduction and improved Digital Customer Experience.
Matrix Digital Banking Platform also works well for the Dutch Aegon start up bank 'Knab' who started to adopt a 'platform model'. The bank already offers mortgage advice across 28 mortgage suppliers and plans to do something similar in other areas including, for instance, insurance.
Knab's pioneer work means that Matrix is fully integrated with Thaler (Sopra), something from which other Thaler users can now benefit.
In keeping with core banking system suppliers everywhere, it is fair to argue that Callataÿ & Wouters, and now French owner of the software, Sopra, do not excel in areas outside the core. Whether Temenos, Misys, Oracle FSS, Infosys or any of the other traditional core players, typically lack agility and responsive required by their demanding and empowered customers.
Matrix – Digital Banking Platform, newer than nearly all of the core systems by more than 20 years, is a next generation solution that can breathe new life into old cores.
To learn more, contact us at sales@fivedgrees.nl or, download the Knab case study to see how one of your peers is gaining a competitive edge.